Thank you for waiting for the culmination of this analysis. It's tempting to say that it's long overdue after I published the first part nearly two years ago. At the same time, however, I believe that things tend to happen when they are supposed to happen, and now seems like an opportune moment to revisit this important issue. 
This is an issue that people are only now starting to give the serious attention it deserves. About a year ago, there was an article in which several mental health professionals with expertise in the field of relationships did an analysis of Kermit and Piggy. They came to some of the same conclusions I did, and the analysis seemed to be serious and not at all tongue-in-cheek. In fact, one of the analysts even expressed surprise at realizing how unhealthy the relationship was based on her analysis, having watched and enjoyed The Muppet Show as a kid. 
In 2011, Kermit did an interview on a Canadian radio show called Q to promote the release of The Muppets. It's one of my favorite appearances that he ever made, mostly because the interviewer took it as seriously as he would have if interviewing a human guest and asked some really deep and thoughtful questions. As it pertains to Kermit and Piggy's relationship, he asked Kermit directly: "How does the relationship endure as you continue to be on the receiving end of this kind of physical abuse?" I was so grateful to him for recognizing and calling it out for what it is. I also appreciated that Steve, as Kermit, was quick to point out that there's nothing funny about true abuse. He went on to emphasize the vaudevillian/slapstick aspect of the Muppets' humor, which satisfied me at the time. It doesn't satisfy me anymore, but I see where Steve-as-Kermit is coming from and I respect his point of view, even if I disagree with it. 
In the Henson's Place documentary from 1984, Jane Henson talked about the relationship between Jim Henson's and Frank Oz's characters, specifically Kermit and Piggy, describing it as "sparring" with one another. Again, when I first saw it, I accepted this explanation. However, I no longer find it satisfactory. My understanding of the definition of "sparring" is that it's not intended to hurt and it takes place between individuals who are more or less on an equal footing with one another. 
I think there's a valid argument that the interactions between Piggy and Kermit on The Muppet Show could sometimes be accurately described as "sparring," but over time, that description has become less apt. On The Muppet Show, Kermit was the boss, and frequently cranky, if not downright mean. After The Muppet Show, however, Kermit evolved away from that. Incidentally, I don't think that's entirely a function of the recast necessitated by Jim Henson's death, though it may have accelerated the evolution that was already in progress. I think Kermit's evolution in that direction began with the movies and progressed through the '80s. At the same time, Piggy became more of a star in both the real world and the Muppets' reality. By the time of Jim Henson's death in 1990, I think the balance of power in the relationship had shifted significantly in Miss Piggy's favor. 
At this point, I'd like to pre-emptively refute a defense that Miss Piggy's apologists may attempt to make on her behalf: maybe the relationship is mutually abusive. According to the National Domestic Violence Hotline, an advocacy group that provides help and resources to all survivors, regardless of sex or gender identity, mutual abuse doesn't exist. Now, it often occurs that people in an unhealthy relationship each behave violently toward one another, e.g., the abused partner reacts violently in self-defense. Nevertheless, abuse is more than physical violence alone; it is also the exertion of control by one partner over the other. It rarely, if ever, happens that the balance of power in a relationship fluctuates between partners, a condition that would have to occur for mutual abuse to exist. Thus, allegations of such are just another tool that the abuser uses to intimidate his or her partner into submission. Yet people in the media, and possibly in the courts, sometimes cite the myth of mutual abuse as though it were a valid defense.
There also seems to be a perception that domestic violence against men is such an insignificant problem that there's no harm in making fun of it. That is not true at all. According to The Crime Report, an estimated one-third of all men in the United States experience domestic violence, including stalking, by an intimate partner during their lifetimes. The real number may be even higher. Collecting data on domestic violence relies heavily on self-reporting by the survivors. Many abused men never report it, in part because of a fear that they won't be taken seriously. It's unlikely to be taken seriously as long as it is still accepted as a comedic trope. The Muppets have a role to play in breaking out of this vicious cycle, and I hope the people in charge will take advantage of the opportunity. 
So, now that I've thoroughly delineated the problem, what solution do I have to suggest? Do I think that Miss Piggy ought to be "cancelled," insofar as that means anything? Do I think she should just quietly disappear from the Muppets? Do I think she should become some sort of Stepford wife-type character, vapid and bland without any personality or agency?
No. 
First of all, let's address the scandal du jour, or maybe by now it's the scandal d'hier because its been several weeks since I saw anyone mention it. I'm referring to the people who were upset about Pepe Le Pew being retired from Looney Tunes over his unwanted advances toward the unfortunate female cat* and who argued that Miss Piggy deserved the same treatment. So, is Miss Piggy as bad as Pepe Le Pew?
The only way to answer that is to hold them both to the exact same standard, because that is the definition of equality. We can't give Piggy a pass because she's female, and we can't give Pepe a pass because he's a cartoon animal, as is the non-anthropomorphic object of his misguided affection. We have to judge them as we would human beings because that is the standard we have established for ourselves. According to those standards, Miss Piggy's bad behavior is at least as objectionable as Pepe Le Pew's. To be clear, I have no doubt that the people making the comparison initially did so in bad faith, but I think they came to the correct conclusion despite their disingenuous motivation.
With that said, I think there's more justification in sidelining Pepe Le Pew than there is in doing the same to Miss Piggy. Pepe Le Pew is a flat, one-note character. For decades, his entire schtick has been molesting an unwilling character, and there's literally nothing more to him than that. On the other hand, Miss Piggy is a more well-rounded and complex character, and therefore more redeemable. While she may be known to fans of the Muppet Show primarily for smacking Kermit around, she has done other things. She has occasional moments in which she can be kind and vulnerable and thoughtful without losing the smarts, sass, and self-centeredness that make her who she is.
If Miss Piggy were a human being, a consistent standard of accountability requires that she would have to pay a penalty of some sort for her abusive behavior, up to and potentially including "cancellation." But she's not a human being; she's a pig puppet. Therefore, if the human beings who are her stewards and caretakers identify and acknowledge what she did wrong in the past and try to have her do better in the future, I consider that to be an acceptable solution.
The Muppet Babies reboot has done a really good job of eliminating the abusive aspects of Piggy's character and toning down the violence without removing or changing her most essential qualities. Baby Piggy is shallow, self-centered, impatient, and temperamental, just like her adult puppet counterpart. However, she also displays adult!Piggy's good qualities, such as strength. Each is capable of compassion for her friends, with Baby Piggy displaying it far more often than her counterpart. Baby Piggy still gets visibly angry from time to time, but she never hits anyone. She is a student of martial arts, but instead of lashing out in fits of rage, she applies the discipline traditionally associated with the practice. Yet even with her violent tendencies toned down to a level acceptable for toddlers and her abusive qualities excised completely, she is still completely, immediately, undeniably recognizable as Piggy, serving as a good model for how her adult counterpart could evolve without changing entirely. 
Muppet Babies is probably the best model for an evolution of Miss Piggy's character, but there are examples from past Muppet productions that can be drawn from as well. In The Muppet Movie, Piggy is thoughtless and insensitive, but she isn't violent toward Kermit. In fact, she only uses her fighting capability to protect him from a fate worse than death, and her affection for him does seem to be genuine. In Muppet Family Christmas, she's initially inconsiderate of Kermit's holiday plans, yet she's strong and determined in coping with her weather-based transportation problems, then once she arrives at the farmhouse, she's very pleasant for the most part. 
Even on the Muppet Show, Piggy has her moments. The Jean-Pierre Rampal episode sticks out as a good example. Piggy's very funny, with all her endearing flaws on full display and no tendency toward violence whatsoever. She's at a disadvantage, but she employs her cleverness to get out of it. If she was always depicted that way, she would be a much funnier character, and you could always feel good about laughing at her.
Notwithstanding a few moments of meanness, the Linda Lavin episode is another good example. Given Piggy's history, it would be reasonable to assume that celebrating Kermit's birthday was an attempt at emotional blackmail or part of a scheme to trick him into marrying her. But as it plays out, it seems like a genuinely unselfish attempt to do something nice for him. She doesn't seem to be working an angle at all. 
I've said this before, but it bears repeating: By pointing out that Miss Piggy's behavior can be problematic, I do not mean to imply that she is the ONLY problematic Muppet character. As I have acknowledged in the past, Animal is problematic, for much the same reason that the amorous Looney Tunes skunk is (although at least Animal also has an interest in drums). As much as I love Pepe the King Prawn, he definitely has created some uncomfortable moments. I agree with Jim Lewis that Crazy Harry's blowing-stuff-up schtick doesn't hold up as well in a post-9/11 world. Statler and Waldorf are supposed to be mean but occasionally cross a line. There are probably many more examples.
The difference is that there has already been at least some conversation within the fandom about these characters and why they can be problematic. By contrast, there has been very little conversation in the fandom about the problematic aspects of Piggy's character, and most of the conversation that has taken place has involved making excuses for her based on the same double standards that I have examined here. 
About two years ago, The Muppet Mindset published a defense of Miss Piggy on the occasion of a made-up holiday in her honor. It was actually a very thoughtful analysis that raised some interesting points, but I think it went too far in excusing her behavior. There's no point in linking to it now because that website will soon be defunct, but here's the crux of the argument: 
"for all her crazy antics and off-putting behavior, I believe at her very core that Piggy is just a small town girl who wants to be loved, who craves that attention she never got as a child, and who doesn't mean harm.  She just doesn't always know how to show love."
There are some parts of this assessment that I agree with … up to a point. I think it's usually true that she doesn't mean any harm, although there are also times when it is demonstrably false.
And maybe it's also true that she doesn't know how to show love after not receiving enough affection as a child. However, there are plenty of individuals, fictional characters as well as real people, who experience neglect and other hardships as children without growing up to be abusers. And I think it is entirely possible for reasonable people to have sympathy for Miss Piggy's tragic past while calling out her behavior for what it is and not excusing or condoning it. 
A month after that, the Muppet Mindset posted another article arguing that Miss Piggy ought to be rewarded with her very own star on the Hollywood Walk of Fame. This article has now found a permanent home, so I can link to it. While the other post was serious and thoughtful, this one is (deliberately?) flippant, with a huge, uncalled-for slam on Denise out of nowhere.** That article ends with: "Maybe we could remove a star like Kevin Spacey's or Donald Trump's, and replace a metaphorical pig for [a] literal pig who deserves it!"
Now I agree, of course, that the individuals so named are complete schmucks who give actual pigs a bad name and do not deserve to be honored with Walk of Fame stars or anything else. But the thing that is so frustrating about that statement is that, if we judge Miss Piggy's behavior by the same standard that we apply to those individuals, she is every bit as undeserving of a star.
Nevertheless, I see hopeful signs that the fandom at large might be starting to view Miss Piggy's behavior from a different perspective. Tough Pigs recently published an article about the perceived parity between Piggy and Pepe Le Pew. And although I think it was a little too apologetic, it did openly acknowledge that Piggy's more aggressive tendencies can be problematic, using that word explicitly. It was the first time I'd ever seen anyone in an influencer position within the fandom make such an admission, and I dearly hope that it is the beginning of a thoughtful and constructive conversation on the subject.
Admittedly, I haven't done everything in my power to facilitate that discussion. Figuring that what I had to say would probably be controversial, I disabled comments on the first part of this analysis, not expecting that it would take this long to write and publish the second part. Maybe it was arrogance on my part, or maybe it was cowardice, but I didn't want to be written off or have to defend my case before I had a chance to explicate it fully. 
If the goal of feminism is to achieve gender equality, then a fair and honest assessment of Miss Piggy's behavior according to consistent standards is entirely compatible with that objective. Double standards are toxic to true equality, which can never exist where they are allowed to flourish.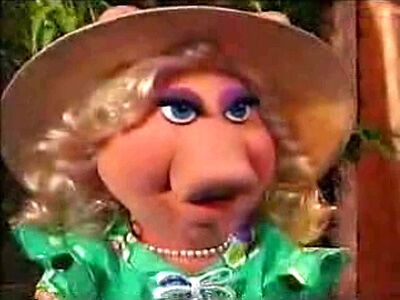 ______________________________________
* Who is apparently named "Penelope" … who knew?
**There's a whole other article to be written on the subject of Denise, but essentially, I don't see the point in hating her. She never even really gets to do anything, so she certainly hasn't had the opportunity to earn the criticism she's received.